Eurovision Song Contest 2019: Which countries have secured a place in the final?
Comments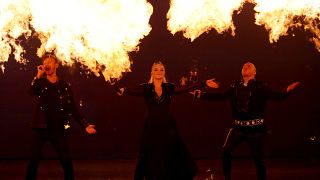 Eighteen countries faced off in the second semi-final of this year's Eurovision on Thursday evening hoping for a place in Saturday's final.
Only ten made it through. These are North Macedonia, the Netherlands, Albania, Sweden, Russia, Azerbaijan, Denmark, Norway, Switzerland, and Malta.
Earlier this week, in the first semi-final, Greece, Belarus, Serbia, Cyprus, Estonia, Czech Republic, Australia, Iceland, San Marino, and Slovenia made it through to Saturday's main show.
France, Germany, Spain, Italy, the United Kingdom, and Israel automatically qualify for the final as the host country and the "Big Five".
It was also finally confirmed that the Queen of Pop, Madonna, will be performing at the finale on Saturday.
READ MORE: Eurovision Song Contest 2019: Madonna's to perform at final
Conchita Wurst, the contest's 2014 winner will also be taking to the stage on Saturday with some "other very well-known former Eurovision artists".
Bookies' favourite
Armenia kicked off the second semi-final with Srbuk singing "Walking out". She was followed by Ireland's Sarah McTernan and Moldova's Anna Odobescu.
The first male performer of the evening, Luca Hanni, represented Switzerland with his "She got me" title. Singers from Latvia, Romania, Denmark and Sweden followed suit.
Few sung in their native language, preferring instead to sing in English and most performances were solo acts. Under Eurovision rules, a maximum of six people can be on stage during each performance and music is to be provided by backing-track only but that hasn't curbed creativity with each act using props and making full use of the giant screen behind them.
Croatian performer Roko, for instance, had two people dressed as angels fly down onto the stage.
Malta's Michela Pace and Lithuania's Jurij Veklenko were next. They were followed by Sergey Lazarev for Russia. Lazarev is no stranger to Eurovision having come third in the 2016 contest.
Singer Jonida was the only one to eschew English in favour of her native Albanian. She left the stage for Norway's trio, Keiino.
Duncan Laurence was up next for the Netherlands. The Dutch artist is the bookies' favourite to win this year's contest.
North Macedonia's Tamara Todevska and Chingiz from Azerbaijan closed the night's performances.
Read more on this subject
Eurovision 2019 preview: What are your country's chances?
Tel Aviv finalises preparations for Eurovision despite latest violence outbreak
Eurovision Song Contest 2019: Madonna's performance at final in doubt
Eurovision Song Contest 2019 takes place around Shabbat — how will this work in Tel Aviv?