International community slams Tehran plans to restart nuclear programme
Comments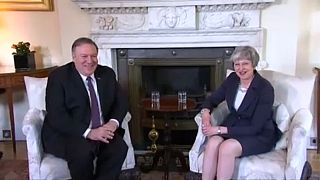 The international community has reacted strongly to announcements by Tehran that it will restart certain parts of its nuclear programme that had been suspended as long as the United States complied with the 2015 Iran nuclear deal.
US Secretary of State Mike Pompeo talked about an escalation of Iranian activities.
"I've seen the reporting, I've seen the letter that was sent. I think it was intentionally ambiguous. We'll have to wait to see what Iran's actions actually are. They've made a number of statements about actions they've threatened to do in order to get the world to jump," he said.
There was also strong reaction from Europe, with London warning Tehran about consequences.
All eyes are on the countries that negotiated the agreement in 2015.
The 2015 international agreement saw sanctions on Iran lifted in exchange for limits on its nuclear programme. After the US withdrew from the accord a year ago it restored crippling sanctions on Iran, exacerbating a severe economic crisis.
"Sanctions were lifted in exchange for restrictions on Iran's nuclear programme. Should Iran cease to observe its nuclear commitments, there would of course be consequences," said Britain's Foreign Secretary Jeremy Hunt.
Germany's Minister of Foreign Affairs Heiko Maas said the stance remains the same, with the desire to maintain the agreement and specifically to stop Iran from being able to acquire nuclear weapons.
However, Russia's Foreign Minister Sergey Lavrov accused the United States of provoking the crisis, and called on European powers to fulfill their obligations in the framework of the agreement. Tehran threatens to resume high level enrichment of uranium if world powers do not keep their promises under the Obama-era agreement.