Brother of former Algerian president Bouteflika placed in custody by military judge
Comments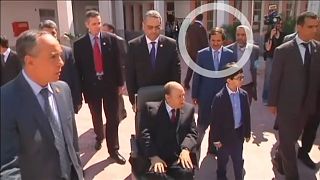 An Algerian military judge on Sunday placed in custody the youngest brother of former President Abdelaziz Bouteflika and two former intelligence chiefs, state TV reported.
Said Bouteflika and the two generals, Athmane Tartag and Mohamed Mediene, were arrested on Saturday.
The three are under investigation over "harming the army's authority and plotting against state authority," state TV said, quoting a statement from the prosecutor at the military court of Blida, south of Algiers.
It did not elaborate on the allegations but the news that the three have been detained may go some way to satisfying protesters in Algeria who have demanded an broad overhaul of the political system since President Bouteflika stepped down last month.
The youngest brother of former president Abdelaziz Bouteflika had been a top advisor to the presidency for more than a decade, and had been Algeria's de facto ruler since his brother was left wheelchair-bound by a stroke six years ago.
Abdelaziz Bouteflika was forced to resign at the beginning of last month after massive streets against his rule, but demonstrators have continued to call for the removal of his associates - with hundreds of thousands taking to the streets on Friday.
"The arrest of Said is definitely the peak in the dismantling of Bouteflika's system," a top political source told Reuters on Saturday.
Army chief of staff Ahmed Gaed Salah has promised to rid the country of corrupt politicians, oligarchs and military officials in order to restore confidence among the people.