Two men arrested over Lyra McKee's murder, Northern Irish police say
Comments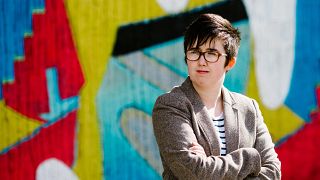 Police in Northern Ireland said on Saturday that they have arrested two men in connection with the murder of journalist Lyra McKee
The two men, aged 18 and 19, were detained under the Terrorism Act and taken to Musgrave Serious Crime Suite, police added.
It comes after police released footage of the shooting on Friday as part of their investigation into the murder of Lyra McKee.
The 29-year-old journalist, who lived in the city, was shot dead on thursday following a night of rioting in Londonderry.
Police are describing it as a "terrorist incident" that happened amid "orchestrated violence" with dissident Republicans being blamed for the violence.
Detectives suggesting the "New IRA" was most likely behind the reporter's murder. Shots were fired and petrol bombs thrown during the unrest in the Creggan area of the city, which nationalists often refer to as Derry.
Police are now appealing for information.
'An attack on democracy'
Assistant Chief Constable (ACC) Mark Hamilton called it a "horrendous act… unnecessary… totally unjustified."
Stephen Martin, Temporary Deputy Chief Constable of PSNI condemned dissident republicans, telling reporters: "This will have achieved nothing other than to plunge a family into grief, and to condemn the city we all love to the worst possible global headlines, today on Good Friday."
Arlene Foster, leader of the DUP, called it an "attack on everybody in Northern Ireland" and an "attack on democracy".
Tensions have reportedly been building up ahead of Easter. Many Irish Republicans commemorate the armed insurrection against British rule in 1916 that became known as the Easter Rising.
According to police ACC Mark Hamilton, Lyra MkKee was hit when "a single gunman fired shots in a residential area of the city". "At this stage we believe her murder was carried out by a violent dissident republican. Our thoughts are very much with the family and friends of Ms McKee, who was a journalist based in Belfast," he said.
"This murder demonstrates all too starkly that when terrorists bring violence and guns into the community, members of the public are placed in severe danger. It is abundantly clear that they do no care who they harm," he added.
A profile of the reporter says she worked for the news website Mediagazer and had written for publications such as The Atlantic and BuzzFeed. McKee had also reportedly signed a book deal for novels, the first of which was due to explore Northern Ireland's violent period known as The Troubles. An article she wrote in 2014 about growing up gay in Belfast was turned into a short film.
Another journalist, Leona O'Neill, tweeted to say that she had been beside the victim when she fell, and called an ambulance but the woman died later in hospital. "Just 29 years old. Sick to my stomach tonight," the reporter said.
The killing has been condemned across the political divide. Thursday night's violence followed reported warnings of potential disorder over the Easter anniversary.
In January a car bomb was detonated in Londonderry outside a court building. No-one was hurt. A group calling itself the "IRA" later said it had planted the device.
Some groups still oppose the peace process, 21 years after the Good Friday Agreement was struck between the British and Irish governments and most political parties in Northern Ireland.