Portuguese fuel-tanker drivers end strike as pay negotiations resume
Comments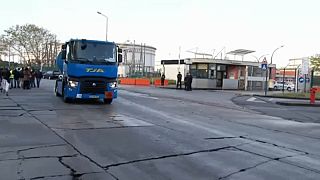 A three-day strike by Portuguese fuel-tanker drivers ended on Friday after striking drivers agreed to resume negotiations over their demands for better wages and working conditions.
The announcement was made by Portugal's infrastructure minister Pedro Nuno Santos after the government had previously declared that the country was facing an energy crisis amid widespread fuel shortages, with car drivers forced to queue for hours at petrol stations, while petrol supplies at airports had fallen to dramatically low levels.
Speaking at press conference, Mr Santos said that the agreement to end the strike and a return to the negotiating table was reached after talks into the early hours between the government, the employers association and representatives from the National Union of Dangerous Goods Drivers.
"One of our demands was for the dangers that our drivers face to be recognised, as they transport such dangerous materials. The other concerns pay. We wanted to have two minimum wages, something we had won 20 years ago and was the norm. We also wanted a monthly dangerous pay supplement, not on a day by day basis," one fuel-tanker drivers' representative said.
On Thursday, few petrol stations operated, while queues stretched for up to 1 kilometer at some of them. Supplies at 60% of petrol stations around the country had already run out. The strike was called on Monday by the National Union of Dangerous Goods Drivers and caused turmoil around Portugal, especially in the light of the Easter holiday period.
The socialist government decided to declare an energy crisis on Tuesday night after it was forced to order striking drivers to get back on the road immediately to resupply airports, ports, and emergency and public transport services, as well as 40% of petrol stations in Portugal's biggest cities of Lisbon and Porto.