Sudan's deputy head of transitional military appointed as two key figures quit
Comments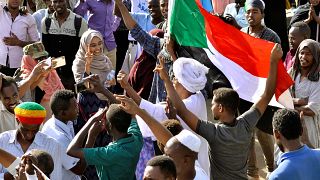 The head of Sudan's rapid support forces General Mohamed Hamdan Dagalo was appointed deputy of Sudan's transitional military council, Sudanese state TV said on Saturday.
The channel showed footage of Dagalo, known by his nickname Hemeti, being sworn in as well as the newly appointed members of the military transitional council.
This happened shortly after one of the key figures to emerge after the overthrow of long-serving Sudan president Omar al-Bashir resigned.
Bashir, who had ruled Sudan with an iron fist for three decades, was ousted on Thursday and a transitional military council installed.
The council was led by Awad Ibn Auf, the country's defence minister, but he announced he was stepping down on Friday.
Lieutenant General Abdel Fattah Abdelrahman Burhan will be the new head of the transitional military council, Ibn Auf said in a speech broadcast on state television.
Later, Salah Gosh, Sudan's powerful security and intelligence chief, also quit, according to state media. It was not clear whether he was a member of the new military council.
The Sudanese Professionals Association (SPA), which has been leading protests to demand a civilian government, called for more demonstrations on Saturday.
"Today, we continue the march to finish the victory for our victorious revolution," the SPA said in a statement.
"We assert that our revolution is continuing and will not retreat or deviate from its path until we achieve ... our people's legitimate demands of handing over power to a civilian government."
Earlier on Friday, the military council said Bashir would not be extradited but could instead be tried in Sudan.
The leader was indicted by the International Criminal Court (ICC) after allegations of genocide in Sudan's Darfur region surfaced.
"We, as a military council in our term, will not hand the president over abroad. We may try him, but we will not hand him over," said Omar Zeinalabdin, the political committee's head.
Bashir's fall came after months of unrest in Sudan that was sparked in December over rising prices. As many as 38 people have died in the protests.
More on this subject