London explosives, rights post-Brexit, and Italy's citizen income | Europe briefing
Comments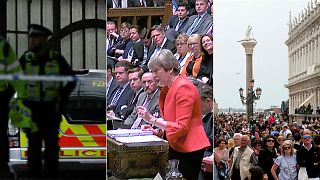 -
Good morning, Europe. Today we're watching:
UK explosive devices
British counter-terrorism police launched an investigation on Tuesday after three suspicious packages were received in buildings at London's Heathrow and City airports and Waterloo mainline railway station in the city centre.
Hard on the heels of explosive devices found in prime London locations on Tuesday, new Scottish police reports have said that suspicious packages have been found today, (Wednesday) in Scotland's two largest cities.
READ MORE: Explosive devices found in two London airports and Waterloo station prompt counter-terror probe
Rights post-Brexit
Brexit minister Stephen Barclay has asked the European Union for its "formal views" on a proposal to preserve citizens' rights regardless of whether a Brexit deal is agreed.
READ MORE: Can a separate deal guarantee the rights of UK and EU citizens post-Brexit?
Italy's citizen income
The controversial "Citizen Income", a Basic Universal Income that will guarantee a monthly salary of up to €780 to millions of unemployed and destitute Italians, kicks off today.
Watch the video in the main player to find out what is Italy's new scheme consists of.
Belgian carnival float criticised
A carnival float at a parade in Belgium has caused outrage for displaying giant caricatures of Jews sitting on bags of money.
The float's creators claim they were simply following carnival tradition with their contribution and say they had no anti-Semitic intentions.
But EU Commission spokesperson, Margaritis Schinas, said it was unacceptable:
"It is unthinkable that these images are paraded in European streets," she said.
READ MORE HERE: Belgian carnival float depicting Jewish stereotypes condemned as anti-Semitic
Customs workers protest over Brexit in Calais
Customs officials in Calais are operating a 'go slow' in protest over what they claim is a lack of resources being allocated to manage their post-Brexit workload.
Long tailbacks are developing as the action enters its third day.
David-Olivier Caron, the regional secretary of the CFDT union, warned that the delays being caused by the action were a taste of things to come: "With Brexit, new missions will come.
"Checking an additional border is an entirely new domain. Everyone will have to declare, transporters, individuals, and if we don't have enough means, we risk having traffic jams even longer than today's."
READ MORE HERE: Long delays in Calais as customs workers protest over Brexit workload
Follow Euronews' live blog every weekday morning from 6 am CET: