Explosive devices found in two London airports and Waterloo station; Scotland also on alert
Comments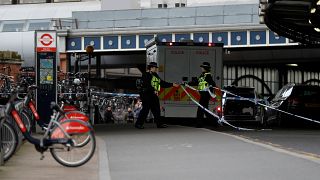 Copyright

REUTERS/Peter Nicholls

-
Britain's Metropolitan Police said it was investigating a "suspicious item" left near Parliament on Wednesday, just a day after explosives were found across three separate locations across the UK capital.
Parts of Scotland were also placed on high alert on Wednesday following findings of "suspicious packages" in Glasgow and Edinburgh.
It is not known if the findings are linked.
British counter-terrorism police launched an initial investigation on Tuesday after three suspicious packages were received in buildings at London's Heathrow and City airports and Waterloo mainline railway station in the city centre.
"The packages — all A4-sized white postal bags containing yellow Jiffy bags — have been assessed by specialist officers to be small improvised explosive devices," police said in a statement.
"The Met Police Counter Terrorism Command is treating the incidents as a linked series and is keeping an open mind regarding motives," it added.
Ireland's police service said it was helping British colleagues investigate who mailed the three small bombs. It follows reports that the packages were posted from the Irish Republic. Sky News published photos said to be of the parcels showing what appeared to be Irish stamps.
Police were first called to investigate a suspicious package at The Compass Centre, a building on the grounds of Heathrow airport, shortly before 10:00 local time (09:00 CET). The package was opened by staff, causing the device to initiate and resulting in part of it burning.
No-one was injured but the building was evacuated as a precaution. It remains closed but flights have not been affected.
Other reports of suspicious packages followed. First at the post room of Waterloo Station, in central London, at 11:40, and at the offices of London City airport, in east London, at 12:10. Neither packages had been opened and specialist officers have made the devices safe, police said.
In a statement posted on Twitter, London City Airport said that the office building, which had been evacuated, has since "reopened and staff have returned safely." No flight was impacted.
Trains also continued to run as normal from Waterloo station, which was not evacuated. A small cordon put outside the station has since been removed, it posted on Twitter.
Police are urging transport hubs across the British capital to be vigilant. They added that no arrest had been made and that enquiries are ongoing.