Watch again: Venezuelans demonstrate in Caracas as Guaido returns
Comments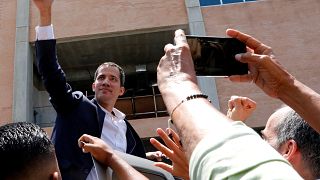 Crowds gathered to greet Venezuelan opposition leader Juan Guaido, who returned on Monday from Ecuador as he attempts to increase pressure on President Nicolas Maduro to resign.
Guaido is risking arrest with his return after he ignored a court-imposed travel ban and toured Latin American countries to boost support for his campaign to oust Maduro.
Guaido addressed the thousands of people who joined the anti-Maduro demonstrations in Caracas.
"Back in our beloved country! Venezuela, we just passed through immigration and we will now head to where our people are," he said on Twitter just after he arrived.
Maduro, who has called Guaido a coup-mongering US puppet and denies there is a humanitarian crisis in Venezuela, has said his arrest depends on the justice system.
"He can't just come and go. He will have to face justice, and justice prohibited him from leaving the country," he told ABC News last week.
Protesters in Caracas, many wearing white and carrying Venezuelan flags, said Guaido's arrest would spark new protests.
"If the regime has even a little bit of conscience, they should not arrest Guaido because people truly would not put up with it," said supporter Franklin Lopez.
US National Security Advisor John Bolton also warned against it on Twitter. He said that any threat to Guaido's return "will be met with a strong and significant response from the United States and the international community."
_Look back at what happened when Guaido returned by clicking on the player above. _