Canine competitors gather in Russia for one of the longest dog sled races in the world
Comments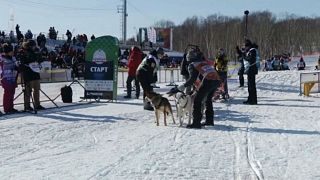 Dozens of canine competitors are waiting for the start of one of the longest dog sled races in the world in Russia's far east. 
There will be 42 teams participating in the Berengia 2019, which will be held on March 2 and see competitors race 700 kilometres to the finish line.
Each competitor drives a six-dog sled, and men and women are treated on equal terms, said Anastasia Silakhina, who will be competing in the race this year.
"We are equals [male and female racers], maybe it is more difficult for us physically, but we are training and fulfilling everything like male racers," she said. 
The governor of Kamchatka region, Vladimir Ilyukhin, said the event has increased tourism in the area. 
"People come to watch Berengia. We were walking around and have seen tourists from foreign countries who came especially for Berengia. 
"It is a beautiful festival — white snow, great dogs, beautiful people. The whole of Kamchatka is like this. This is our trademark our brand that will attract more people."
This year, around 250,000 visitors are expected to attend the event.
The first Berengia race dates back to 1990 and covered a distance of 250 kilometres.