Europe briefing: Benalla investigation, Putin's state of the union, Green MEPs arrest
Comments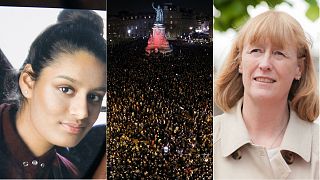 1) Putin will 'target US' if Washington deploys missiles in Europe
In his annual address to the parliament on Wednesday, Russian President Vladimir Putin said his government would "target the US" if Washington deployed any missiles in Europe.
Putin did clarify that he was not seeking direct confrontation with the US.
In response to the US withdrawal from the Intermediate-range Nuclear Forces Treaty (INF), he said Russia would not take the first step in deploying missiles but warned his American counterparts of the risks if they did so.
2) Three Green MEPs arrested after breaking into Belgian airbase
Three MEPs from the Greens political grouping have been arrested after breaking into a Belgian military airfield, according to the group's Twitter account.
3) French ski patroller dies in Swiss avalanche
A French ski patroller has died from injuries sustained after being caught in an avalanche in Switzerland.
Rescuers called off the search after finding no other casualties on the piste in Crans-Montana.
Four people were pulled from the snow on Tuesday following the avalanche and were taken to a nearby hospital.
4) Theresa May returns to Brussels
The British prime minister will meet top European Union official Jean-Claude Juncker in a bid to find a breakthrough in the stalled Brexit negotiations.
The EU has reiterated that it will not re-open discussions over the withdrawal agreement between the two sides or over the Irish backstop.
5) French senators call for perjury investigation against Macron former security aide
A French Senate committee recommended that President Emmanuel Macron's former security aide, Alexandre Benalla, be prosecuted for perjury during a seven-month investigation into his violent conduct during May Day protests last year.