Spain snap election and UK climate change protests | Europe briefing
Comments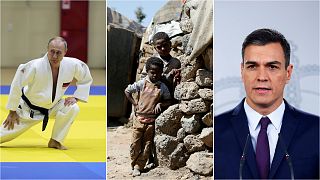 Spanish Prime Minister Pedro Sanchez has called for a general election to be held on April 28.
The decision followed the Spanish parliament's rejection of the government's preliminary 2019 budget on Wednesday.
"We had to present our budgets, and we did, and unfortunately it did not succeed," Sanchez told reporters on Friday.
"But I also say there are parliamentary defeats that are social victories -- the citizens have seen what this government wants for this country," he added.
A Save the Children report released ahead of the Munich Security Conference says the number of young children killed due to armed conflict is almost five times higher than the number of fighter deaths. 
Save the Children said 870,000 children under 5 years old were killed as a result of armed conflict between 2013-2017.
This was compared to the 175,000 deaths from fighters in such armed conflicts.
British students participated in a nationwide protest against climate change on Friday, which was inspired by the weekly protest from fellow 15-year-old Swedish student Greta Thunberg.
Thousands of students have taken part in similar demonstrations across the world in recent weeks, including a number of countries in Europe.
Friday's protesters have demanded the British government declare "a state of climate emergency."
4. Ancient fresco of Narcissus discovered in Pompeii
Archaeologists have discovered an ancient fresco of the mythical Narcissus in Pompeii.
The discovery of the well-preserved piece was made during an excavation along the ancient city's Via Vesuvio, officials said.
According to Greek mythology, Narcissus was a handsome hunter who fell in love with his own reflection. This story paved the way toward the modern-day term: narcissism.
Russian President Vladimir Putin joined his country's judo team on Friday to wind down from a day of diplomatic discussions in Sochi with Turkey and Iran.
A black belt himself, Putin was seen throwing fellow fighters to the ground, before finally being overcome by a female judoka.
According to reports, the Russian president injured a finger in the drill, but he saw the session through to the end.
_You can follow our live coverage every weekday from 6am to 12pm in the blog below: _