UK MPs deal new blow to PM Theresa May's Brexit strategy in symbolic vote
Comments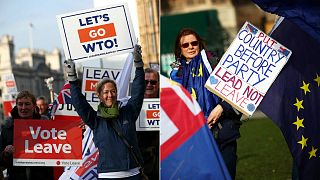 British lawmakers dealt yet another blow to Prime Minister Theresa May on Thursday when they rejected a motion to reiterate their support for her Brexit strategy.
May was defeated by 303 votes to 258 — a majority of 45.
Labour leader Jeremy Corbyn said the vote showed that "there's no majority for the prime minister's course of action."
May's defeat comes after the government survived two votes on amendments that could have also weakened May's hand, including one that sought to delay Brexit by at least three months.
May's motion
May was asking parliament to "reiterate its support for the approach to leaving the EU (European Union) expressed by this House on 29 January 2019 and notes that discussions between the UK and the EU on the Northern Ireland backstop are ongoing."
The prime minister is seeking changes to her deal with Brussels after it was rejected by a record majority in parliament last month. She has said she wants to bring a revised deal back to parliament for a vote later in February.
The motion effectively asked MPs to once again endorse two amendments that were previously successfully adopted. The first one, by Sir Graham Brady, called for the backstop — the mechanism that would see Northern Ireland remain within the EU's customs union should another solution not be found before the end of a planned transition period — to be replaced. The second one, tabled by Dame Caroline Spelman, states opposition to leaving the bloc without a deal.
But the government's continued ambiguity over whether she is ready to allow the country to leave the EU without a deal has angered Remainers and Brexiteers alike within her own ruling Conservative Party.
The eurosceptic European Research Group, which comprises as many as 80 Conservative MPs, indicated as early as Wednesday that it might vote against the government.
Brexit Secretary Stephen Barclay, meanwhile, drew the ire of Remainers by telling parliament shortly after the debate started on Thursday that the government remains committed to leaving the EU on March 29, suggesting a no-deal Brexit was still on the table despite an amendment passed last month ruling this out.
Talking after the results were announced, Labour leader Corbyn said the vote "shows there's no majority for the prime minister's course of action, and yet again her government has been defeated."
"She can't keep on just running down the clock and hoping that something will turn up that will save her day and save her face," he added, calling on May to present a "coherent plan that can deal with the stresses and anxieties" of people across the country.
Ministers will next get a chance to debate and vote on May's EU strategy on 27 February.
The amendments
A number of amendments were brought forward but three were selected to be voted on by Speaker John Bercow. Generally, amendments are more likely to be chosen if they are backed by MPs from different parties.
The first amendment (A), voted on shortly after 6 pm CET, was the one tabled by the main opposition Labour Party.
It sought to force May to table a new meaningful vote on her Brexit deal by February 27 or admit that "there is no longer an agreement in principle in the negotiations" with the EU.
If the latter, then the amendment would have forced the government to table another amendable motion on "how the government proposes to proceed."
It was rejected with 322 votes against and 306 votes for.
Bercow also selected Ian Blackford's amendment (I). The MP from the Scottish National Party (SNP) called on the government to start negotiations to delay Article 50 — which triggers the two-year divorce proceedings — by at least three months.
But it was defeated by a landslide, with 93 votes for and 315 against, suggesting dozens of Labour MPs abstained.
The SNP said it represents "a shameful dereliction of duty from a party that claims to be the "opposition".
"Just like the Tories, they're putting party unity above common sense," it added.
Another amendment, initially tabled by Conservative Remainer MP Anna Soubry and Labour's Chuka Umunna was shelved at the eleventh hour after Soubry reached a deal with the government.
The amendment had called on the government to publish its latest analysis on the impact of a no-deal Brexit on business and trade. It was backed by over 50 MPs.
Click on the player above to watch what happened in Thursday's debate and vote, or to find out more about how voting works in the UK parliament, click here: