A380 scrapped and Holocaust denial conviction upheld: Europe briefing
Comments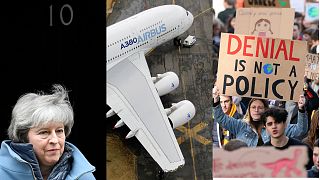 With just 43 days until the UK is set to leave the EU on March 29, British Prime Minister Theresa May is hoping that parliament will back a motion reiterating its support for her Brexit strategy.
MPs will vote on May's latest motion on Thursday and could be asked to vote on five other amendments brought forward by MPs.
These aim to either force May to call a new meaningful vote on her Brexit deal before the end of the month, delay Article 50 or even scrap it. House Speaker John Bercow will decide which amendments will make it to the floor for a vote.
Airbus has on Thursday announced plans to scrap production of the A380 superjumbo, with the last of the jets to be delivered in 2021. The world's largest airliner, with room for 544 people in standard layout, was designed as the European corporation's challenge to Boeing's legendary 747, but failed to take hold as airlines backed a new generation of smaller, more nimble jets.
A former French boxing champion who assaulted police during a "Gilets Jaunes" (Yellow Vests) protest was handed a year-long jail sentence by a Paris court on Wednesday.
A London court has upheld a conviction against a far-right musician, which campaigners say has set a precedent for future convictions of Holocaust deniers in the UK. Alison Chabloz posted three self-penned songs to social media in which she denounced a supposed "Jewish conspiracy" to dominate the world and denied the Holocaust.
Students in Belgium are marching against climate change for the sixth week running. Around 35,000 Belgian pupils skipped school last week to call for government action against global warming and thousands more are expected on the streets again today.
You can follow our live blog below every weekday. We'll be back tomorrow from 6am to 12pm CET.