Europeans in Venezuela also feeling the heat as crisis continues
Comments
By Héctor Estepa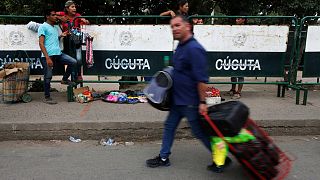 Hundreds of thousands Europeans migrated to Venezuela in the 30s and 40s and during the years of the petrol bonanza.
Giuseppe Gianetto migrated from Italy to Venezuela as a child and became rector of the biggest university in the country. He wants Italy to recognise Juan Guaidó as president.
"Italy is turning its back to the hundreds of thousands of Italians and descendants of Italians that are suffering a terrible situation in Venezuela it is a truly shameful," he says.
Eusebio Fernandes from Portugal arrived in Venezuela aged 19. His cheese factory is operating at 10% capacity because of hyperinflation.
"The main challenge we're facing is the shortage of medication," he says. "Everything related to medicines, because there's a lot we can't get. And the little medication we have access to is quite expensive.
In my, case, I suffer from cancer and I follow a treatment, but all the drugs come from abroad, because I can't buy anything here."
But many holders of European passports are choosing to stay regardless. Iliana is a university student with a Spanish background.
"My career is one of the things keeping me here, but, above all, I'm staying because I love my country.
"I feel a lot of love for Venezuela and I have a lot of hope in change," she says.
The majority work of Europeans work in institutions and NGOs and prefer to keep their opinion private.