Raw Politics: Theresa May promises she won't leave Northern Ireland behind
Comments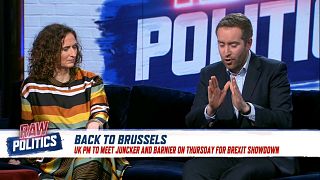 UK Prime Minister Theresa May is coming back to Brussels on Thursday to try and win some concessions for her beleaguered Brexit deal.
May plans to meet with EU President Jean-Claude Juncker and Michael Barnier to try and find some leeway on the Irish backstop negotiations.
However, the prime minister has yet to release a clear list of demands for the European Union.
This afternoon May gave a speech in Belfast, where she pledged to not leave Northern Ireland behind during her discussions in Brussels. She vowed to find a Brexit solution that would avoid the implementation of a hard border.
As of now, the EU has not appeared to be very open to reopening negotiations on the backstop, so it won't be clear until Thursday if May will be able to uphold her promise.
.