Europe briefing: Five stories to know about today
Comments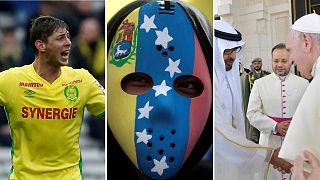 1. Domino effect ensues as EU leaders line up to recognise Venezuela's Guaido
Europe has begun turning its back on Venezuela's incumbent president, Nicolas Maduro, after he missed his Sunday deadline to call for presidential elections to take place.
One by one, European leaders publicly announced their recognition of National Assembly chief, Juan Guaido, as the country's interim president.
A joint statement from the EU is expected later today.
2. Private investigation finds wreckage of airplane carrying footballer Emiliano Sala
Private investigators have found the wreckage of the aircraft carrying footballer Emiliano Sala and pilot David Ibbotson, the Air Accidents Investigation Branch (AAIB) confirmed to Euronews over the phone on Sunday.
The AAIB released a statement on Monday afternoon, saying one body had been found alongside the wreckage.
"Tragically, in video footage... one occupant is visible amidst the wreckage," the statement said.
Investigators are "now considering the next steps, in consultation with the families of the pilot and passenger, and the police."
A tweet from David Mearns, a marine scientist leading the investigation, said that both families had been notified by police.
3. Apartment block fire in central Moscow leaves six dead
A fire at a seven-storey apartment block in central Moscow left six people dead, and injured several more on Monday.
Forty-two people, including eight children, were evacuated by the 80 firefighters deployed to tackle the fire, which engulfed 2,000 square metres.
4. Pope Francis begins historic visit to the United Arab Emirates
The head of the Roman Catholic church is in the United Arab Emirates for a historic three-day visit.
Pope Francis is the first pontiff to set foot on the Arabian Peninsula.
He has described the visit as an opportunity to write "a new page in the history of relations between religions."
5. Large police presence reported after 'shots fired' near US airbase in central Germany
German police responded to reports of gunshots near a US airbase near the German town of Wiesbaden late on Sunday evening.
According to a statement from Westhessen police, two people were later arrested and were found to be carrying a 'deterrent gun', or a blank-firing gun.
"It will certainly be a lesson to the two young men that it is not a good idea, especially near a US property, to shoot a weapon in the air," the statement said.
As it happened on Monday, February 4
This is how we covered key developments this morning: