Watch: 'Withdrawal agreement remains best and only deal possible,' says Juncker
Comments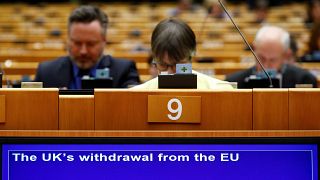 European Commission President Jean-Claude Juncker said at a plenary session of the European Parliament on Wednesday that the withdrawal agreement remains "the best and only possible deal" and that "it would not be renegotiated".
The European Parliament debated Brexit a day after the House of Commons held a series of votes on Prime Minister Theresa May's Plan B and alternative amendments.
Winning UK Parliament vote on Irish backstop sent 'clear message' to EU: May
Juncker warned that Tuesday's vote could increase a "disorderly exit" for the UK and that the EU "must prepare for the worst outcomes".
He added that a hard border on the island of Ireland was out of the question.
"I believe we need a safety net that secures us against this risk [...] Ireland's border is Europe's border and it's our union's priority," he said.
British MPs lack clarity in what they want
The European Commission president said that the House of Commons was against many things but that it was unclear what they actually wanted.
Juncker said that he will continue to be in close contact with British Prime Minister Theresa May and will listen to her ideas but added that he will remain "extremely clear" about EU's position.
Michael Barnier, the EU's chief Brexit negotiator, reiterated this point by saying that the House rejected a no-deal scenario without clarifying what would be done to avoid that scenario.
Withdrawal agreement remains 'best agreement'
Following in Juncker's footsteps, Barnier reminded everyone that the withdrawal agreement was the "best and only means" to ensure the UK's "orderly withdrawal".
Barnier also said that the backstop, which is a major part of the agreement, would not be renegotiated.
"Rejecting the backstop boils down to rejecting the solution that was found with the British," he said, adding that it was the necessary first step to building confidence between the EU and the UK for their future relationship.
Guy Verhofstadt hits out at UK's Brexit deal amendment process
Belgian MEP, Guy Verhoftstadt, did not hold back when criticising the UK's way of debating and choosing the amendments to May's Brexit deal.
"This is no way to build a future relationship with the EU," he said, noting that Tuesday's vote lacks "clarity and stability".
He added that he hopes Jeremy Corbyn's meeting with May will be fruitful and that they "decide to work together" and that it does not only amount to "eating biscuits and drinking tea".
However, British MEP Nigel Farage said that the EU should prepare for a no deal Brexit scenario, calling it "the only way forward".
Watch the debate in the video player above.