Israeli judokas top medals table on Day 1 of Tel Aviv judo Grand Prix
Comments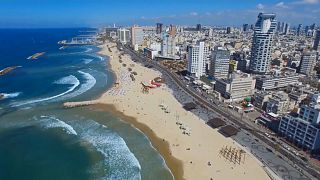 The first IJF World Judo Tour event in Israel lived up to its high expectations on the opening day of the inaugural Tel Aviv Grand Prix.
Four countries won Grand Prix gold on day one, but the opening day of the new IJF season belonged to the hosts Israel, who won two gold medals to take control of the medal table ahead of Belgium, Italy and Kosovo, who each won one gold medal in Tel Aviv.
And a packed Shlomo arena was on it's feet for the home nation's **Woman of the Day **as Shira Rishony took the first gold of the year in the -48kg category, scoring Waza-ari on her Ukrainian opponent Maryna Cherniak with a swift dropping Osoto. 
Spurred on by the absolutely electric home crowd, Hohhot Grand Prix bronze medallist Rishony held on to claim her first World Judo Tour victory since 2013. Needless to say that the crowd were elated, and so was she.
Rishony was presented her Tel Aviv gold medal medal by IOC Member Alex Gilady.
"The crowd were amazing, and they pushed us, and I think it's the one reason that pushed us. For me it was really emotional when they played the anthem, I was so proud, being part of the Israeli team is something I'm really proud of. There is nothing better than that actually," Shira Rishony said in an interview.
First senior title for Italy's Lombardo
Our Man of the Day was Italy's Manuel Lombardo - displaying a great range of judo, he had an incredible tournament - confidently advancing to the -66kg final where he faced Ukraine's Bogdan Iadov. Further demonstrating his range, the junior World Champion took his first ever senior title. The knowledgeable crowd applauded his achievement.
We asked him what the toughest moment of his day was. "Of course it was the final, with the Ukrainian, he has a really strong grip. I did, I think, a good throw at the last second, I felt he was really strong," replied Manuel Lombardo.
Home fans ecstatic as Israeli women strike again
The Israeli women struck again, as Timna Nelson Levy overcame the powerful Russian Daria Mezhetskaia to win the -57kg gold medal and bring even more joy to the fans, who went wild.
A phenomenally strong performance from the Israeli team, who are so clearly supported and appreciated by their national judo community.
Nelson Levy was awarded her medal by Miri Regev, Minister of Culture & Sport for Israel.
Olympic Champion Majlinda Kelmendi demolished her way to the -52kg final. A series of enormous throws created quite a spectacle, and set up a hotly anticipated final against Israel's Gili Cohen, who had the crowd at her back.
But even that couldn't stop the Kosovan hero, as she denied Israel a clean sweep in the Women's categories. Kelmendi is truly a force to be reckoned with.
Move of the Day
Our Move of the Day came from the -57kg silver medallist, Daria Mezhetskaia of Russia - an absolutely enormous Sode Tsuri Komi Goshi against Hedvig Karakas saw her send the Hungarian judoka flying.
And as the first day's competition came to a close, all agreed that it was an incredible day of thrilling judo in Tel Aviv.