Manchester United knocked off top spot by Real Madrid in 2019 Deloitte Football Money League
Comments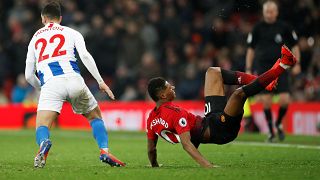 Manchester United have fallen two places on a football rich list as their Spanish rivals knocked them from the top spot.
Real Madrid's success on the pitch in the 2017-18 season — which included winning the Champions League — saw them rake in record revenue of more than €750m, according to the latest Deloitte Football Money League.
Barcelona came in second on the list, ahead of Manchester United who fell from top spot in the 2016/17 edition to third in the latest rankings.
The combined revenue of Deloitte's top 20 clubs hit a record €8.3 billion last season, more than double the figure from nearly a decade ago.
"Broadcast revenue remains the most prominent source of revenue for clubs with a 43% share, compared to 40% and 17% for commercial and matchday revenue respectively," the report said.
"Nonetheless, a noticeable trend in this year's edition has been the commercial growth achieved by Europe's largest clubs, particularly for those in the 'big five' leagues with no new broadcast cycles commencing in 2017/18 (i.e. England, France, Italy and Spain)."
Deloitte Football Money League: the top 20 in 2017/18
Ranking and income from the previous year in brackets.
[2] Real Madrid €750.9m [€674.6m]

[3] FC Barcelona €690.4m [€648.3m]

[1] Manchester United €666m [€676.3m]

[4] Bayern Munich €629.2m [€587.8m]

[5] Manchester City €568.4m [€527.7m]

[7] Paris Saint-Germain €541.7m [€486.2m]

[9] Liverpool €513.7m [€424.2m]

[8] Chelsea €505.7m [€428m]

[6] Arsenal €439.2m [€487.6m]

[11] Tottenham Hotspur €428.3m [€359.5m]

[10] Juventus €394.9m [€405.7m]

[12] Borussia Dortmund €317.2m [€332.6m]

[13] Atletico de Madrid €304.4m [€272.5m]

[15] FC Internazionale Milano €280.8m [€262.1m]

[new] AS Roma €250m

[16] Schalke 04 €243.8m [€230.2m]

[20] Everton €212.9m [€199.2m]

[new] AC Milan €207.7m

[new] Newcastle United €201.5m

[17] West Ham United €197.9m [€213.3m]