Trump and Kim to meet for second summit in February
Comments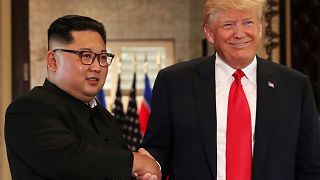 Copyright

REUTERS/Jonathan Ernst/File Photo

-
US President Donald Trump and North Korean leader Kim Jong Un are to meet for a second summit "near the end of February," the White House announced on Friday.
The announcement came after Trump met with General Kim Yong Chol, North Korea's top nuclear official, on Friday, who is believed to have delivered a letter from Kim Jong Un.
The White House said Trump "looks forward to a second summit with Chairman Kim" and that a location will be announced at a later date.
The two leaders held their historic first summit in Singapore in June, following a series of diplomatic overtures by North Korea such as the release of three American prisoners.
The document they signed stated that North Korea "commits to work toward complete denuclearisation" but failed to address how and by when it would be achieved.
Sanctions have so far remained in place as little progress has been made in the past seven months — although North Korea has not conducted any new missile tests and has seemingly dismantled a nuclear testing site
But the summit ushered in a new era for diplomatic ties between the two entities on the Korean peninsula. Kim and South Korea President Moon Jae-in agreed to scale down troops along the disputed Demilitarised Zone during a September summit in Pyongyang. A cross-border train now has now also been reopened.
Kim has also sought to strengthen ties with China, travelling to Beijing multiple times to meet Chinese President Xi Jinping.