Swedish Prime Minister Stefan Lofven reelected for second term
Comments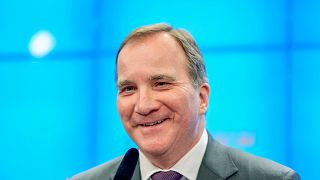 Sweden ended a four-month political deadlock on Friday when lawmakers reelected Prime Minister Stefan Lofven for a second term.
The result meant one of Europe's few left-wing governments stayed in power for another term.
Lofven's new minority, centre-left government — comprising of his Social Democrats and the Greens — won the backing of centre and liberal parties, who were until now members of the four-party centre-right opposition alliance.
The new prime minister agreed to a historic deal with the Centre, Liberal and Green parties last week in order to stop the Sweden Democrats, an anti-immigration party, and prevent them from having a voice in policy.
But the deal will see Lofven, a former welder and union leader, cut taxes and deregulate the labour and property rental market — a shift to the right that is likely to alienate many of the Social Democrat's traditional supporters.
In September's election, the far-right made significant gains with the Sweden Democrats winning 17.6% of votes and 63 seats, up from 12.9% and 49 seats in the last election — the biggest gain by any party in Sweden's parliament.
Lofven was supported by 115 lawmakers, while 153 voted against him, and 77 abstained. According to Swedish law, a nominee becomes prime minister as long as a majority of parliament does not vote against them.
Sophia Gaston, deputy director of the Henry Jackson Society think tank spoke to Euronews' Good Morning Europe show in September 2018: "[Swedish Democrats] have put immigration and all of the issues that are core to them at the heart of their policy agenda. 
"It has exposed a lot of the weaknesses in the traditional parties in dealing with these issues."
Populism is not exclusive to Sweden, the EU is currently grappling with a rise in anti-immigration sentiments and politics.
"I think this just highlights that these issues are certainly not going anywhere," said Gaston. 
"There has been a tendency for two schools of thought: either you believe that the far right is going to overrun Europe and the EU's days are numbered, or you believe that with every election in which the far-right party doesn't become the largest party, everything's okay. 
"I think where we are really somewhere in the middle. It's a big existential crisis for Europe, and all of the traditional parties are going to have to quickly shape up and learn to discuss issues about culture and identity and values in a way they've never really had to before."