Chinese researchers sprout seeds on the moon for first time ever
Comments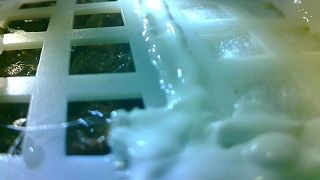 Cotton seeds transported to the moon earlier this month have sprouted, marking the first time humans have grown biological matter there, Chinese researchers have announced.
The seeds were sent as part of China's Change-4 mission, a probe which landed on the far side of the moon on January 3.
Researchers at Chongqing University are conducting an experiment to observe how plants can grow in low-gravity environments and in the natural lighting conditions of the moon.
Planted among the cotton seeds are other biological experiments, including rapeseed and potato seeds.
Professor Xie Xin, dean of the Advanced Technology Research Institute of Chongqing University, highlighted the importance of the researchers' findings, during a press conference on Tuesday.
"This is the first time humans have conducted biological growth experiments on the lunar surface," he said. "The biological science test has been initially realised by humans for the first time."
A combination of "the biological experiment on the moon's surface, the first plant buds to be cultivated on the moon, and, over time, the first green leaf grown on the moon, provides foundations for research and experience for human beings to establish a lunar base in the future."
"(It) is of great significance," he concluded.