Paris bakery explosion: death toll rises to four
Comments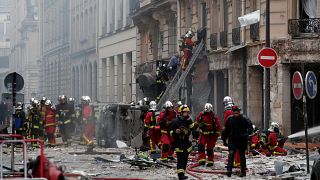 The death toll from a suspected gas explosion in Paris has risen to four after rescue workers found a woman's body in the rubble on Sunday.
Two firefighters and a Spanish woman were also killed in Saturday's explosion at a bakery in the city centre.
About 50 people were injured in the blast, nine are in a critical condition, according to provisional estimates on Sunday.
The explosion went off at around 9 am local time at the Hubert bakery on rue de Trevise, in the 9th arrondissement.
Several buildings in the surrounding area were damaged by the explosion, windows of nearby shops were smashed, and cars were overturned.
The cause of the blast is said to be due to a suspected gas leak, though the Paris prosecutor has said other explanations have not been ruled out.
A gas leak was reported in the building earlier and firefighters had arrived to deal with it when the blast went off.
The head of the Paris fire brigade, Eric Moulin, said the two firemen were named as 28-year-old Simon Cartannaz and 27-year-old Nathanaël Josselin.
A crowdfunding page has been launched to raise money for their families. At the time of publication, over 85,000 euros was donated.
Spanish newspaper El Pais reported the woman killed on Saturday was a 38-year-old tourist who was on holiday with her husband and three children.
The explosion came amid heightened security in the city for yellow vest demonstrations expected later on Saturday, with large parts of the city centre blocked off by riot police.