Journalist blackmailed over spy-camera sex tape wins court case against Azerbaijan
Comments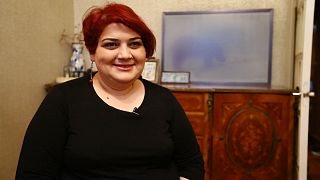 The European Court of Human Rights (ECHR) has ruled in favour of Azerbaijani journalist Khadija Ismayilova who claimed she was blackmailed with a hidden-camera sex tape in order to derail her investigations about high-level corruption.
"We'll have to achieve full justice on the case. Work is not complete without the perpetrators being brought to justice," Ismayilova told Euronews.
The ECHR ruled Azerbaijan must pay Ismayilova €15,000 in damages and €1,750 in legal fees.
The 42-year-old said she was investigating a series of irregularities concerning Azerbaijani President Aliyev's family businesses when the government retaliated through blackmail.
Ismayilova told Euronews authorities planted a camera in her apartment a few days after she published her first story on the Panama-registered companies of Aliyev's daughters.
The ECHR ruling stated that in March 2012, Ismayilova received a threatening letter with still pictures taken from a video of her and her then-boyfriend having sexual intercourse.
She said the images came from a hidden camera planted in her flat.
The letter, posted from Moscow, read: "Whore, refrain from what you are doing, otherwise you will be shamed!"
Following this, the video was posted on the internet and, at the same time, several state-controlled newspapers ran stories accusing her of a lack of professionalism, anti-government bias and immoral behaviour.
The Court found that such acts were an "affront to Ismayilova's human dignity", which the State had a duty to investigate.
Press freedom in Azerbaijan
The ruling brings to light the continued crackdown of press freedom in Azerbaijan. The country currently ranks 163 out of 180 countries in freedom of the press, according to Reporters Without Borders.
"There is no press freedom. No single independent television, radio or newspaper exists in Azerbaijan," Ismayilova told Euronews, going on to say 10 journalists and bloggers were currently imprisoned in the country.
One of the prisoners, Afgan Mukhtarli, helped Ismayilova find proof of the government's involvement in the 2012 secret filming in her apartment.
Ismayilova appealed to the ECHR in 2014, claiming the Azerbaijani authorities were either directly responsible for the sex tape, or else did not fulfil their duty to protect her right to privacy and freedom of expression by effectively investigating the case, according to Amnesty International.
The ECHR noted that the authorities in Azerbaijan have created an environment that "may produce a grave chilling effect on freedom of expression".
Although she said the ruling was a step in the right direction, Ismayilova told Euronews it is not a matter of money and said she will continue to demand justice for journalists in Azerbaijan.
"I wish there were clearer language demanding that the Azerbaijani government restore the justice by not merely paying compensation but also by investigating and punishing perpetrators," said Ismayilova.
A spokesperson for the Ministry of Foreign Affairs of Azerbaijan confirmed to Euronews that investigative authorities discovered several hidden cameras in Ismayilova's flat but that there was no "newly installed second telephone line or data wires used to transmit footage from the cameras".
The spokesperson also said the court's judgement needed to "be analysed by the Azerbaijani authorities in order to form a position concerning any further steps to be taken."
"Necessary measures will be adopted in accordance with national legislation and rule of law," they added.
Ismayilova's travel restrictions stem from her conviction for tax evasion, the spokesperson said, adding Ismayilova was free to challenge the conditions of her probation before the national courts.
Ismayilova's advice to Azerbaijani journalists
Ismayilova serves as regional editor for the Organized Crime and Corruption Reporting Project (OCCRP) and shared her advice for eager Azerbaijani journalists.
"Don't work alone; in 2005 investigative journalist Elmar Huseynov was killed in Baku, with five bullets in his mouth.
"He was alone in the field writing about the ruling family. When he was killed, there was complete silence for several years," said Ismayilova.
"When I got arrested in 2014, dozens of journalists joined the Khadija project and did investigative reports about corruption in Azerbaijan. Their work made my arrest mean something.
"Authoritarian regimes collaborate to hide stolen wealth and to oppress their critics. So investigative journalists should collaborate to uncover this. It takes cross-border cooperation to uncover cross-border corruption."