2019 kicks off with extreme weather as heavy snow blankets large parts of Europe
Comments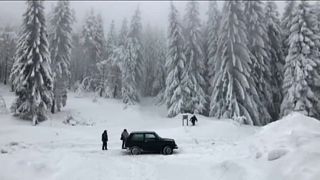 Another 'Beast from the East' is throwing its weight around, delivering heavy snowfalls across Europe. 
In Austria the army were drafted in to help out in Alpine villages. And in the Tyrol province some ski slopes were closed.
In Germany, people in Bavaria are used to coping with extreme winter weather, but unusually heavy snowfall in several areas has caused traffic chaos, and some schools weren't able to open.
A similar story in Norway where winter storms have created major problems for travellers across the country. A number of flights were cancelled at one airport. Students had a lucky escape when their bus was blown off the road.
But it's not just the northern countries. Southern countries, including Serbia and Greece, are also struggling with disruption from the blast of extreme cold. The Arctic conditions are expected to last several days.