DR Congo election results delayed
Comments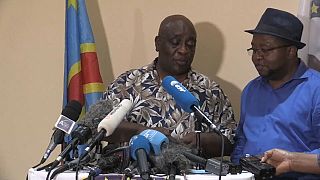 The Democratic Republic of Congo's preliminary election results will not be announced on Sunday as had been envisaged.
The country's election commission said it had only received less than half of the ballots so far. It's still not clear exactly when the results will be ready, alarming opposition parties.
"The Lamuka coalition regrets the fact that the National Electoral Commission has not specified any date for the announcement of provisional results regarding the legislative, provincial and presidential elections," said Pierre Lumbi, the campaign manager for opposition candidate Martin Fayulu. "The Lamuka Coalition warns the National Electoral Commission against any intention of tampering with the results displayed at the polling stations."
President Joseph Kabila is stepping down after 17 years and has promised an orderly transfer of power but there have already been allegations of irregularities.
So far no clear winner has emerged, although late last week the country's Catholic Church claimed otherwise, drawing criticism from the electoral authorities and Kabila's ruling coalition.