Spain continues Christmas festivities on Three Kings day
Comments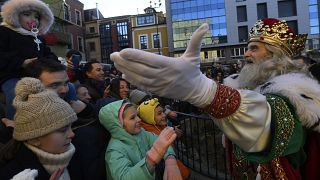 Spanish people everywhere will be tucking into a little "Roscon" this weekend - the creamy brioche served to celebrate Three Kings Day - on the sixth of January, the traditional climax of Christmas festivities.
The adoption charity Aldeas Infantiles baked a 50 metre long cake in Madrid.
Meanwhile, wise men arrived on helicopters, cars, and ships to ensure that patient children finally get their long-awaited presents.