Donald Trump threatens to declare 'national emergency' over Mexico wall
Comments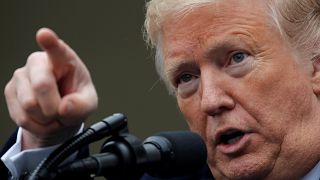 US President Donald Trump has said he could declare a state of national emergency to build a wall on the Mexican border without the approval of Congress.
His comments came after he and senior Democrats met on Friday and failed to end a standoff, which has seen the US government partially shut down for two weeks.
Trump said on Friday the government closure could last months or years. So far, 800,000 public workers have been unpaid since 22 December.
The deadlock started after Trump withheld support to fully fund the government until he receives his request of $5.6 billion (5 billion euros) to build the wall.
Speaking to a reporter, Trump said he could use extraordinary measures to build the wall, which he says is needed to stem the flow of illegal immigrants and drugs into the US.
"We can call a national emergency because of the security of our country ... I may do it. But we can call a national emergency and build it very quickly. And it's another way of doing it. But if we can do it through a negotiated process, we're giving that a shot" he said.
House Speaker, Nancy Pelosi said lawmakers cannot resolve the issue of border security until the government is reopened. She called Friday's meeting with Trump "lengthy and sometimes contentious".
With Democrats now in control of the House of Representatives, Trump is facing a divided government.
On Thursday, the Democrats passed spending bills to reopen the government, which included $1.3bn of border security funds until 8 February.
However, it cannot take effect until the Republican-controlled Senate approves the legislation.
Trump aides and lawmakers are set to meet later on Saturday to try and resolve the standoff.