The Japanese New Year's ritual that's making a comeback
Comments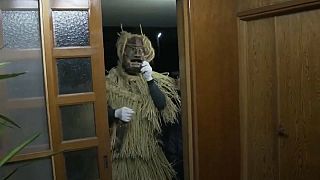 People wearing demonic masks visited homes in Japan on New Year's Eve to bring good luck in 2019.
The 'Namahage' folk ritual was added to UNESCO's cultural heritage list in 2018.
The tradition in northern Japan has recently been revived after a 20-year hiatus. Many communities in the city dropped the practice in recent decades, partly due to a shortage of volunteers to play the deities.