Firenado forms at Derbyshire factory blaze
Comments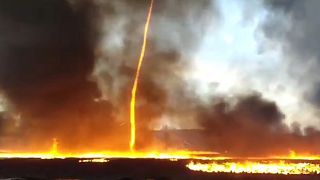 Copyright

Leicestershire Fire and Rescue Service Ashby Station
Windy conditions caused a tornado-like column of fire to form at a plastics factory in Derbyshire, England.
Firefighters attempted to control a blaze at the factory whilst the so-called firenado formed on Monday (August 6).
Leicestershire Fire and Rescue service took to Facebook to explain that the fire whirl is formed in a similar way to a tornado, as cold air meets hot air.
The factory fire engulfed thousands of stacked plastic pallets and spread to a small site building and a number of fork-lift trucks.
Speaking to a local newspaper, Russell Meredith, operational director of the factory, said: "The main thing is that no-one is hurt and that everyone is safe."