London police arrest 39 suspects on 'attempted murder' charges
Comments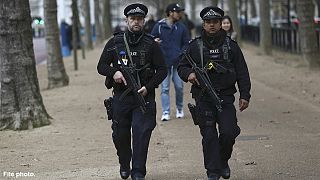 Thirty-nine people have been arrested on suspicion of attempted murder after failing to cooperate with London's Metropolitan police following the stabbing of a man in the early hours of Monday.
The man, believed to be in his 30s, was found with stab wounds in the borough of Hammersmith and Fulham, said a Metropolitan police statement.
The victim was taken to a hospital and is in critical but stable condition.
Police believe the man was chased by several male and female suspects following a brawl in a shop.
The suspects were later seen entering a private residence that was hosting a party at the time.
Officers entered the residence and tried to speak with guests who failed to co-operate, said the statement.
As a result, 39 people were arrested on charges of "attempted murder" and were taken into custody at various police stations.
"Whilst it is unusual for so many people to be arrested in the early stages of an investigation such as this, due to a lack of co-operation and the necessity of securing essential evidence following a serious assault, this action was appropriate," said Superintendent Mark Lawrence.
The investigation remains open.