Children's remains discovered in mass grave in Iraq
Comments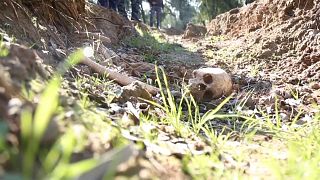 Police in Iraq say they have identified a mass grave containing what they believe are the remains of victims of Islamic state militant executions, including those of children.
They said the site was discovered nine days ago by shepherds outside al-Daghila village between the towns of Hawija and Riyad in Kirkuk province in the north of the country.
Federal police are guarding the site until the arrival of exhumation teams and experts from Baghdad.
Authorities believe the grave contains the remains of tens of bodies based on the number of clothes and blankets buried in the area.
Most are still buried under the soil, but some bones and skulls have emerged after heavy rainfall in the area in the past two weeks.
Locals from al-Daghila village said that they witnessed some of the executions being committed by Islamic State group members because it was on their way to the village.
"Our area, our village is by the dam, and this is our road passing from there," said resident Adday Hamid Abd. "On our way, we were seeing them while they were killing them. They (the victims) were dressed in red suits, we could see them, it was clear."
Tucked away inside the forests of Hawija, the site was used by Islamic State group fighters as a military training camp.
In addition to the mass grave, the site includes a shooting range, bunkers, trenches, and caravans.
Hawija fell under the Islamic State group control in June 2014, and the Iraqi security forces managed to retake the city on 10 October 2017.