Watch: First footage released of polar bear cub born at Berlin Zoo
Comments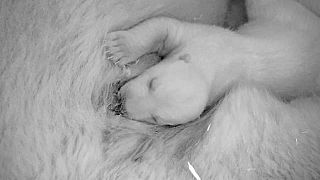 Footage has been released of a new polar bear cub born at Berlin Zoo.
The 27-day old youngster is spending its days sleeping, nursing and cuddling up to its mother.
Tonja gave birth on December 1 after being paired with polar bear father Volodya.
The public will not get to see Tonja and her cub until at least the spring when they will first leave their enclosure.