Sheikha Latifa's legal representative says Robinson meeting does not prove princess is safe
Comments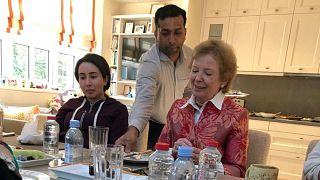 Copyright

Dubai Foreign Ministry
A legal representative for Sheikha Latifa, a Dubai princess who was feared missing, said a meeting with Mary Robinson, former UN High Commissioner for Human Rights, does not prove Latifa is safe.
International media reported that Latifa was forcibly returned after trying to flee the Gulf Arab state.
"Robinson's recent meeting with Latifa in Dubai serves only to act as proof of life but in no way satisfies us that indeed Latifa is safe," Radha Stirling, head of the group Detained in Dubai, told Euronews.
She added the former UN chief "failed to address the pressing questions of the abuse and the torture that Sheikha Latifa alleged against her father".
Stirling also pointed out that the meeting purportedly took place in the presence of her alleged abuser's wife.
The UAE foreign ministry released images showing Latifa alongside Robinson — a former president of Ireland — which it said were taken on December 15 in Dubai.
It came after human rights groups asked the authorities to prove her safety when she was not heard of for months.
The UAE foreign ministry said on Monday it had sent a communication regarding Latifa to the UN Human Rights office.
Stirling has also criticised comments made by Robinson after the meeting in which she said Latifa was a "troubled young woman".
"The dilemma was that Latifa is vulnerable, she's troubled," Robinson told BBC Radio 4's Today programme.
"She made a video that she now regrets and she planned an escape, or what was part of a plan of escape.
"I had lunch with her. She's a very likeable young woman but clearly troubled, clearly needs the medical care that she is receiving."
Stirling told the BBC that Robinson could be heard "essentially reciting for BBC Radio listeners the content of the statement issued by the Dubai ruler's court".
"What we want to see is Latifa safe and free and able to speak for herself in a neutral territory," she told Euronews.
What are the claims surrounding Latifa?
The daughter of the UAE's ruler Sheikh Mohammed Bin Rashid Al Maktoum, Princess Latifa is said to have tried to flee abroad in March.
Reports from campaigners claimed she escaped with the help of friends on a yacht, which was later intercepted off the coast of India.
Video emerged that is said to have been taken following an earlier escape attempt showing the princess saying she and her family "did not have freedom of choice".
She also alleged she had been confined for three years and tortured.
The UAE denied these reports and said Latifa was at home with her family.
Guernica 37 International Justice Chambers, who Stirling said she appointed to represent Latifa at the United Nations, said in a statement it was "quite disappointing to see a person of Mrs. Robinson's stature brushing over what are very serious complaints".
"There are credible allegations that a number of individuals were unlawfully attacked in international waters, were unlawfully abducted, handcuffed, beaten and detained incommunicado for a lengthy period of time.
"Mrs. Robinson fails to address this point at all.
"A young woman, one who made the most serious of allegations against her own family, so serious that she felt that she had no other option but to organise a covert escape out of the country, has not been heard from or seen for a period of 9-months after being detained on a boat near the coast of India," the organisation added.