Ice park featuring 39 ice sculptures to open in northeast China
Comments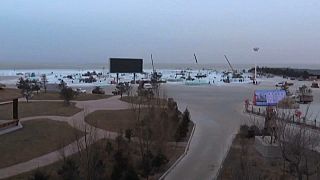 A popular ice park re- opens in China's Jilin province on Friday, having doubled in size.
Visitors to the Chagan Lake site can enjoy ice sculptures, ice slides and ice labyrinths.
The park has been upsized to 30,000 square metres, the size of around 4 football pitches.
Zhang Shengnian, who is in charge of the park's construction work, says that the park this year has expanded in size compared with previous years.
"This year, the park expanded to twice as big as it was last year. This years' ice volume also exceeded 15,000 cubic meters," said Zhang.
This years' temperature has remained higher than usual, so the making of the raw ice saw a week-long delay. To catch up with the schedule, workers have been working overtime since Dec. 9 to meet the deadline despite the doubled workload.
"The construction work is stressful. There are about 300 ice sculpture artists and ice constructors from Harbin and other workers in total. We would start our work at 06:00 and work more than 12 hours a day," said Zhang.