The 'church of all religions' in Russia
Comments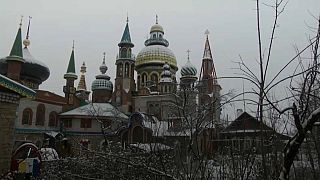 A 'church of all religions' is being built in Russia from donations left by visitors.
The temple in Kazan contains a mosque, an orthodox church and a synagogue but also elements of Buddhism and other faiths, some of which are no longer even practised.
Construction on the temple began in 1992 when when it's claimed local architect and philantropist Ildar Khanov was visited by Jesus Christ.
His brother Ilgiz Khanov says: "(My) brother came and told me 'Ilgiz, you know, daddy dreamed of building a mosque'. But because our country (Russia) is dual, meaning it has two religions, including Buddhism, my brother decided to connect (all of them)."
The building is a work in progress, reliant on donations of the visitors who go there.