Apple pulls religious app accused of portraying being gay as a 'sickness'
Comments
By Janelle Griffith with NBC News U.S. News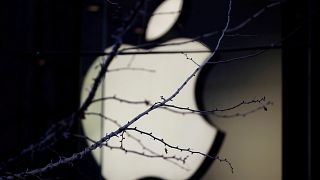 Apple has removed from its online store a religious app accused of falsely portraying being gay as an "addiction," "sickness," and "sin" after a national gay-rights organization petitioned to have it pulled.
Truth Wins Out, which says it fights "anti-gay religious extremism," launched a petition Thursday urging Apple to remove the app by Living Hope Ministries, a nonprofit that says it serves "those who are seeking sexual and relational wholeness through a more intimate relationship with Jesus Christ."
Living Hope Ministries developed its app three years ago, according to the ministry's website.
Truth Wins Out alleged in its petition that the app sought for LGBT youth "to change from gay-to-straight through prayer and therapy."
The petition had 356 supporters. Truth Wins Out said it will seek to have the Living Hope Ministries app removed from other platforms that still host it.
The gay-rights advocacy group thanked Apple and its CEO Tim Cook in a statement Friday.
"We thank Apple for exemplifying corporate responsibility and taking swift action to remove a dangerous app that stigmatizes and demeans LGBT people," said Truth Wins Out Executive Director Wayne Besen. "Ex-gay programs are consumer fraud and cause significant harm to the people they purport to help."
Ricky Chelette, executive director of Living Hope Ministries, told The Dallas Morning News on Friday that he plans to challenge Apple's decision.
"I don't know why they would have taken it down," Chelette said. "We'll obviously appeal to them to reinstate it."
Chelette said the ministry does not believe its message promotes conversion therapy.
"We have no problem with an individual who is gay if that's what they want to be," Chelette said Friday. "We don't make any proclamations about fixing anyone. ... All we do is teach a very orthodox view of biblical truth."
Neither Apple nor Chelette immediately returned NBC News' requests for comment.