Paddy Ashdown: Ex-Liberal Democrats leader dies aged 77
Comments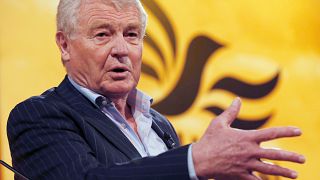 Centrist politician Paddy Ashdown has died aged 77 after a short illness.
Britain's Liberal Democrats said he had enjoyed a "remarkable career" and would be "hugely missed".
He died on Saturday after a short illness and had recently been hospitalised with bladder cancer.
Ashdown, who was born in India and moved to Northern Ireland as a young child, headed up the Lib Dems for more than a decade.
He quit in 1999 and went on to become the European Union's special representative for Bosnia and Herzegovina.
Ashdown described himself as having few gifts other than strong willpower.
"People said I couldn't learn Chinese, they said I couldn't run 30 miles in six hours," he said in early 1992.
"This sounds extraordinarily arrogant but I can't remember a thing upon which I've set my mind that I didn't succeed in doing."
The former MP had campaigned for Britain to remain inside the EU.
"He has been a powerful voice of real significance for the pro-European cause in recent years," said Vince Cable, the current leader of the Lib Dems.
"He was aghast at the direction our country has been taking, and as ever did all he could to campaign for a change of course.
"This is a hugely sad day for the Liberal Democrats and for the very many people across political and public life who had immense affection and respect for Paddy."