Brett McGurk: Top US envoy in fight against ISIS resigns after Trump Syria pullout
Comments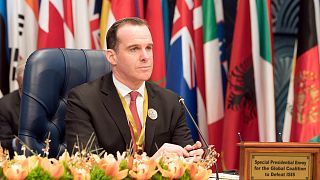 -
A top US special presidential envoy in the war against ISIS has quit over Donald Trump's Syria withdrawal, reports say.
Brett McGurk resigned on Friday, two months ahead of his scheduled departure in February 2019, Reuters said. The resignation is effective from 31 December, a US state department official confirmed.
McGurk, leader of the Global Coalition to Defeat ISIS, stood at the State Department podium last week and told of the US' ongoing commitment to the fight in Syria.
"I think it's fair to say Americans will remain on the ground after the physical defeat of the caliphate, until we have the pieces in place to ensure that that defeat is enduring," McGurk said.
He added, "it would be reckless if we were just to say, well, the physical caliphate is defeated, so we can just leave now. I think anyone who's looked at a conflict like this would agree with that."
But Trump ordered on Wednesday for the Pentagon to pull US troops from Syria. The US President later suggested on Twitter that the war against ISIS was over and that the group were defeated.
"We have defeated ISIS in Syria, my only reason for being there during the Trump presidency," Trump posted on Wednesday.
McGurk's resignation follows that of James Mattis, Trump's defense secretary who pointed to differences with the President over the treatment of allies.