'Euronews isn't chirping on this': Putin hits out over Russian sailors
Comments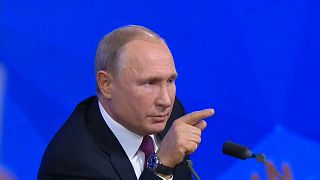 Vladimir Putin took a swipe at Euronews after our reporter asked him about claims of a Russian military build-up in Crimea.
Russia's president, speaking today at his annual press conference, said the reports were a "deliberate provocation" from his Ukranian counterpart Petro Poroshenko and part of his election campaign.
Russia annexed Crimea from Ukraine in 2014 and tensions flared on November 25 when Russia seized three Ukrainian naval vessels and their crews.
READ: Nuclear weapons, Crimea and Russophobia - what did we learn from Putin's Q and A?
READ: Putin on marriage: 'As a decent man, I would probably have to do it one day'
READ: Putin: dismisses second Brexit referendum as against 'will of the people'
Putin said there was no breach in maritime protocol before going on to refer to an incident when Russian fishermen were allegedly seized.
"When our [Russian] fishermen were seized, this happened in neutral waters, not in [Ukrainian] domestic waters," said Putin. "And they are still detained including the captain."
Putin then accused Euronews of not even "chirping" about the incident.
"The whole crew is detained somewhere and nobody is even talking about it," he said. "We are ready to stick to our agreements and we are not taking any unilateral measures."