No-deal Brexit: Iberia's operating licence 'at risk' if EU and UK fail to reach divorce agreement
Comments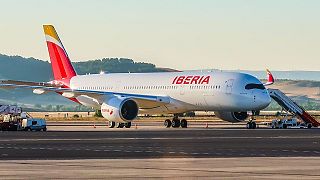 Operating licences for European airlines with British majority ownership could be "at risk" if no exit deal is agreed upon on between the United Kingdom and the European Union.
According to Madrid-based newspaper El Pais, the European Commission warned Wednesday that airline companies with a majority of non-EU capital will lose the right to operate in the European market if the agreement is not ratified by March 30, 2019.
The European Commission Transport office told Euronews that some airlines' operating licences will be at risk if they do nothing to change their structure.
The spokesperson also told Euronews they expect airlines to comply on all conditions to obtain an operating licence and If the conditions are no longer fulfilled as a consequence of the United Kingdom' withdrawal from the EU, the operating licence will no longer be valid.
"Airlines concerned should be aware and prepared, and we expect that they have started adopting the necessary measures," said an EU spokesman.
Brussels has provided a temporary lifevest by proposing a one-year truce for airlines to continue operations between the United Kingdom and EU destinations until March 30, 2020.
The European Commission has explained that the affected airlines have been informed since "the initial phase of the withdrawal process," to put in place the necessary measures to not lose their licenses.
What airlines are at risk?
One at-risk carrier is the Spanish airline Iberia, which could be grounded from operating flights inside Spain in a "no deal" scenario.
Iberia is controlled by the Anglo-Spanish group International Airlines Group (IAG) who also owns Aer Lingus, Vueling and British Airways.
Nevertheless, an IAG spokesperson told Euronews: "We are confident that we will comply with the EU and the UK ownership and control rules post-Brexit".
IAG's airlines are not the only ones facing "no-deal" turbulence.
Low-cost carriers Ryanair and EasyJet have already announced plans to ensure 51% of their capital and control comes outside the UK.
EasyJet, headquartered at London Luton Airport, operates domestic and international scheduled services on over 820 routes in more than 30 countries.
It has combated the possible loss of license by launching a new initiative called EasyJet Europe.
"We remain confident flights will continue, even if the outcome of talks is a no-deal Brexit," an EasyJet spokesperson told Euronews.
"We have already put in place our post Brexit structure that ensures EasyJet is able to maintain its network.
"We have put in place three operating airlines, in Austria, Switzerland and the UK in order to be able to maintain flying both between the UK and Europe and within Europe."
How popular is air travel in Europe?
The European air traffic management (ATM) system currently handles around 26,000 flights daily.
Forecasts indicate air traffic levels are likely to double by 2020. Moreover, European ATM costs an additional €2-3 billion every year, compared to other similar systems in the world.
The UK is one of Europe's busiest travel hubs. With over 40 commercial airports located in different places across the country. London alone has 5 airports, including Europe's busiest passenger airport Heathrow, with more than 78 million passengers in 2017.