Film 'Industry Village' in Les Arcs celebrates success
Comments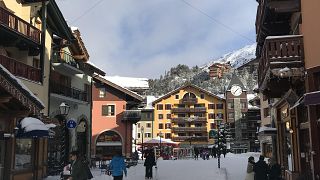 The Industry Village, a key networking part of the Les Arcs Film Festival, has come to an end after a successful turnout.
It comprised of four villages. "We call them villages because we are in the mountains," Industry Village Manager, Anna Ciennik, explained to Euronews.
"We have 'Work in Progress' sessions, where we screen films that are in post-production, so we show 8 minutes of scenes of films being made at the moment.
"We have the 'Co-production Village' where we showcase projects at development stage, who are looking for financiers.
"We have the 'Talent Village' which is its first year this year where we want to shed light on upcoming directors that have not only short films but who are working on their first feature project.
"And we also have the 'Music Village' which is very important for us too. We felt the need to create a bond between the film and the music industry because music is so important in the cinema...so this is what we do," she added.
The Industry Village brought together more than 500 professionals, reaching full capacity in November. Organisers said it was the first time it reached full capacity so early - and said the high demand demonstrates how it is going from strength to strength as more producers, distributors and sales agents apply to attend.
Since it launched ten years ago, the Industry Village events have drawn many talented budding directors, including László Nemes with Son of Saul. It went on to win the Cannes' Grand Jury Prize - and an Oscar for best foreign-language film.
Other high-profile projects that were developed at the Industry Village include Grimur Hakonarson's Rams, and Lukas Dhont's Girl. It's hoped many more success stories will follow.
"Many important companies are coming every year, and we know it is important for the selected projects to be showcased here and this is something we are happy and proud of and we keep working on making all this even better and hope to do even better next year," Anna said.