Der Spiegel star journalist is sacked for falsifying articles 'on a grand scale', returns awards
Comments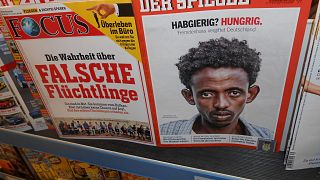 German news outlet Der Spiegel announced it had sacked award-winning reporter Claas Relotius on Wednesday for making up sources and inventing facts.
The weekly magazine said in a statement that Relotius had "falsified his articles on a grand scale and even invented characters, deceiving both readers and his colleagues,"
It added that the journalist had admitted that at least 14 of the 60 articles he wrote for Der Spiegel "are at least part fabrication" and that the outlet would continue work to verify the others.
Some of the articles in question went on to be nominated for or even winning awards including "The Lion Children", a reportage about two Iraqi children who had been kidnapped by the so-called Islamic State and "Number 440", a story about alleged inmates at the US military prison Guantanamo Bay.
Relotius, 33, started working at Der Spiegel in 2011 as a freelancer but became staff a year and a half ago. His reporting won him numerous awards including CNN's "Journalist of the Year" in 2014, the European Press Prize in 2017 and Germany's "Reporter of the Year" in 2013, 2015, 2016 and earlier this month.
Relotius has now returned four press awards from Reporter Forum, according to the German press association, and has been stripped by CNN of two Journalist of the Year awards, CNN has announced.
"Claas Relotius has reached out to us via a text message, apologised and handed back his 4 reporter awards on his own initiative," Reporter Forum said on its website.
His deception was uncovered by one of his colleagues, Juan Moreno, who worked with him last month on an article about a group of American vigilantes patrolling the US-Mexico border.
Moreno raised the alarm at Der Spiegel and used another reporting trip to the US to track down some of the people quoted in the article to find out they had never met Relotius.
"For three or four weeks Moreno went through hell because colleagues and those senior to him did not believe his accusations at first," Der Spiegel wrote in an article.
Relotius initially tried to protect himself by producing fraudulent proof but as the evidence against him mounted, he eventually admitted his deceit.
"I am sick and I need to get help," he is quoted as saying by Der Spiegel.
Locals of Fergus Falls, a small US town where Relotius reported on Trump voters, have written a blogpost about their experience with the journalist, describing his article as "endless pages of an insulting, if not hilarious, excuse for journalism".
They wrote: "Not only did Relotius' 'exposé' on Fergus Falls make unrecognisable movie-like characters out of the people in my town that I interact with on a daily basis, but its very basic lack of truth and its bizarrely bleak portrayal of the place I love left a very sick, unsettled feeling in the pit of my stomach."
The news outlet apologised to its readers for the deceit and described it as "a low point in Spiegel's 70-year history."