Bomb explosion rips through Athens TV station
Comments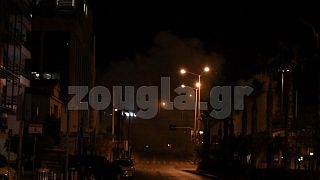 A bomb explosion ripped through the offices of Greek television station Skai TV in Athens in the early hours of Monday morning.
No injuries were reported, however, the force of the blast caused "extensive damage" to the station, Skai TV reported.
Two other broadcast stations, Zougla.gr and ANT1, said they received anonymous phone calls at 1.45 a.m. local time, warning that a bomb would explode at the Skai TV office in a further 45 minutes.
"The stranger gave a 45-minute margin and said three times that 'it's not a hoax,'" Zougla.gr said.
Police were then rushed to the scene to evacuate the area before the explosion occurred.
Video footage posted to YouTube by Zougla.gr shows the moment of the explosion.
No group took claimed responsibility in the immediate aftermath of the blast, however, police are reportedly looking for several persons who were spotted planting an explosive-filled bag close to the Skai TV building.
Greek anti-terrorism police are investigating the incident.
Olga Gerovasilis, the Greek minister of citizen protection, visited the site of the explosion on Monday morning, making a statement of warning to the perpetrators.
"We are here from the very beginning with the chief of the Greek police for an incident that damages democracy," she said. "But democracy is shielded even more, and, of course, it is not threatened."
Greek MEP Girgos Kurtsos called the explosion a "bomb against democracy."
"The bomb against Skai is a bomb against information and democracy," he wrote on Twitter. "At the beginning of a crucial election period, some people want to shake everything up."
"Our answer is democratic unity. We are all Skai!"