Team Red Bull triumph in extreme winter sports Rise and Fall race
Comments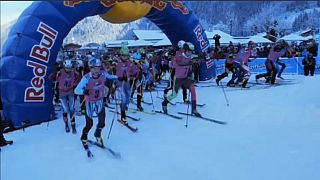 Athletes from all over the world raced across snow and through the air in the Rise & Fall relay race at Mayrhofen in Austria on Saturday.
The challenge involves athletes competing across four disciplines, including an uphill 1.4km sprint on touring skis. There's also paragliding, a mountain bike leg over a 3.7km course up a mountain, and a final ski leg hurtling back to the finish line.
A total of 85 teams of four took part, with the Red Bull outfit winning the event.
They clocked up a total across the events of 39 minutes, 07.2 seconds, followed by Teamwork and Mountainshop Hoerhager One in second and third place respectively.
It was the seventh edition of the extreme sports race and an eighth is scheduled to take part next year on December 14 at the same venue.