Putin is avoiding negotiations, but martial law will not be extended, says Poroshenko
Comments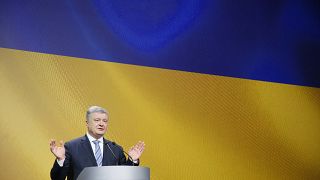 Copyright

REUTERS/Valentyn Ogirenko
Ukrainian president Petro Poroshenko has accused Russian president Vladimir Putin of avoiding negotiations to release Ukrainian sailors captured last month.
Last month, Russian Navy ships fired upon and captured three Ukrainian Navy vessels attempting to pass from the Black Sea into the Sea of Azov, through the Kerch Straight.
"When, during the act of aggression in the Kerch Strait, I called him (Putin) to communicate, he refused," said Poroshenko at a press conference in Kiev on Sunday.
During the address, the Ukrainian premier asserted that Putin's lack of response stemmed from the speed with which Poroshenko's intelligence operatives were able to gather evidence.
This conflict sparked human rights activists to stage a rare protest outside the FSB headquarters in Moscow on Sunday, calling for the release of political prisoners as well as the Ukrainian sailors captured in the maritime standoff.
One activist said at least 5 demonstrators were arrested by police.
Poroshenko also stated that he does not plan to extend martial law unless there is a large-scale attack from Russia.
"My committed position is that no martial law should interfere with elections. If there is no large-scale aggression from the Russian armed forces in Ukrainian territory beyond the separation line and the administrative border of Crimea, martial law will not be extended," said Poroshenko.
Martial law in Ukraine is set to expire on 26 December.
Following the stand-off, Ukrainian authorities barred male Russian nationals between the ages of 16 and 60 from crossing the border into Ukraine.
Moscow claims the sailors illegally entered Russian waters and have resisted calls from Ukraine's western allies to release crew members.
The Kremlin has accused Poroshenko of directing his vessels into disputed waters to boost his popularity ahead of a re-election bid in March 2019.
Poroshenko is facing an uphill battle to get re-elected, and some have speculated that the martial law could serve to postpone the scheduled vote.
Poroshenko also stated that Russia has withdrawn only 10% of its armed forces from Russian-Ukrainian border since the introduction of the martial law.
In response, Ukraine has re-enforced troops, including sending tanks of the 93rd mechanised brigade, near the eastern border as a precaution to an invasion.
Euronews has reached out to the Kremlin for comment.