France's 'gilets jaunes' call for more protests this weekend
Comments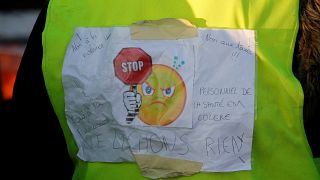 Elements of France's "gilets jaunes" ("yellow vests") movement are using social media to call for more protests this weekend.
As Euronews' Alex Morgan explains in the video above, the call for "act five", as it's called, comes despite pleas from the government to halt the protests after the Strasbourg shootings and President Macron's concessions announced earlier this week.
On Thursday France's Interior Minister, Christophe Castaner, visited Strasbourg and then tweeted: "Last night I was on the streets of Strasbourg, I saw the people of France applauding our police officers, I saw them praise their exemplary action. And tomorrow (Saturday) we are going to throw rocks at them? I will never tolerate that."
And speaking in Brussels President Macron said France is "in need of calm, order and a return to normality", adding that he has responded to the demands of the Gilets Jaunes and dialogue cannot be achieved by "occupying public domains or through violence."
The government insists that if protesters turn out in the same numbers as the previous weekend they are ready for them.
The French security forces are also under close scrutiny from international rights groups after accusations of heavy-handed tactics.
The "gilets jaunes" are not grouped together under one leadership, making it difficult to assess the support for more demonstrations. Some of the event invitations for this weekend posted on Facebook by various groups within the movement have been viewed by very few people but others by tens of thousands.
A woman living in rural France who originally joined the movement over the rising tax on diesel explained how she left after messages she was administering on Facebook became more violent. She noticed the discourse change. People grew angrier and the posts became more violent. "I realised I didn't have any overview of the situation," she told Euronews.
However many protesters plan to turn out this weekend, the French authorities are taking no chances.
Michel Delpuech, the head of police for Paris and its region, said on Friday that police forces will be deployed in the same numbers as last week to adapt to any violent clashes,