Cleaners dressed as zodiac animals clean hotel windows in Japan
Comments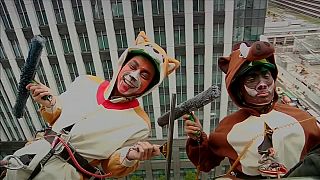 Window cleaners dressed as the current and the next Chinese zodiac animals washed hotel windows in Tokyo on Thursday (December 13) in anticipation of the coming year. The zodiac animals for the Chinese New Year are common in many countries in Asia.
The annual event has been going on for six years, but it was the first time that 20-year-old Yuki Murakami is participating. Murakami, dressed as a pig, the zodiac animal for 2019, said he was nervous at the start but was glad that the job was done.
As he received a water wiper from this year's zodiac animal, the dog, Murakami said he cannot wait to find out what the new emperor's era will be called.
Japan's Emperor Akihito is due to step down on April 30, 2019 which will mark the end of the "Heisei" era.