Macron to address France after another weekend of rioting
Comments
By Alastair Jamieson and Emmanuelle Saliba, Euronews and Linda Givetash and Reuters with NBC News World News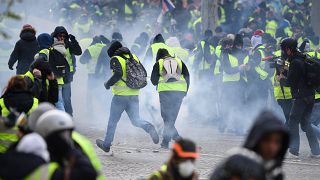 -
French President Emmanuel Macron was preparing to address the nation Monday after a fourth weekend of violent protests by "Yellow Jacket" protesters. He met with lawmakers, unions and business leaders to hear their concerns following demonstrations that began in struggling provinces and spread to rioting in the capital.Later, he is expected to make a televised address amid criticism that he has failed to act over the crisis triggered by his economic reforms — including ahike in gas taxes which his government last week agreed to postpone.An estimated 10,000 protesters took to the otherwise deserted streets of Paris on Saturday, while a further 125,000 marched in other towns and cities across France, the Interior Ministry said. Nearly 2,000 arrests were made and the violence left 264 people wounded, including 39 police officers.
Tens of thousands of police have been deployed in response to the "gilets jaunes" movement, named for the fluorescent safety vests that French motorists must carry in their vehicles.What began as a revolt against the gas tax rises has morphed into a broader rebellion against Macron's 18-month presidency. A November poll found that his approval rating was as low as 26 percent.France's finance minister warned that the unrest was spooking tourists and investors and had already knocked 0.1 percentage points off France's GDP this quarter."Our country is deeply divided," Bruno Le Maire said. "It is the president's role to unify the country."
Earlier, Le Maire promised to help the owners of stores damaged by rioters. He told Euronews that the protests are harming the "attractiveness of France" for business.Paris Mayor Anne Hidalgo said 550 municipal cleaners had helped clear the city's streets after the turmoil and thanked firefighters for their efforts.France's retail federation said stores had lost about $1 billion of pre-Christmas sales since the unrest began.Macron was elected on a reformist agenda, having pledged to overhaul the country's generous welfare state, which redistributes wealth across society with high taxes for the rich.
France has high levels of social security and workers' rights, making it difficult to enact business-friendly reforms in spite of persistent unemployment.Last week, he attempted to quell the protests by agreeing to drop the gas tax increase, which prompted truckers to call off a planned strike.However, one student group has called for a week of blockades and demonstrations.
Interior Minister Christophe Castaner warned Saturday that the "gilets jaunes" movement risked being infiltrated by radicals."These last three weeks have created a monster," he told reporters. "Our security forces will respond with firmness and I will have no tolerance for anyone who capitalizes on the distress of our citizens."